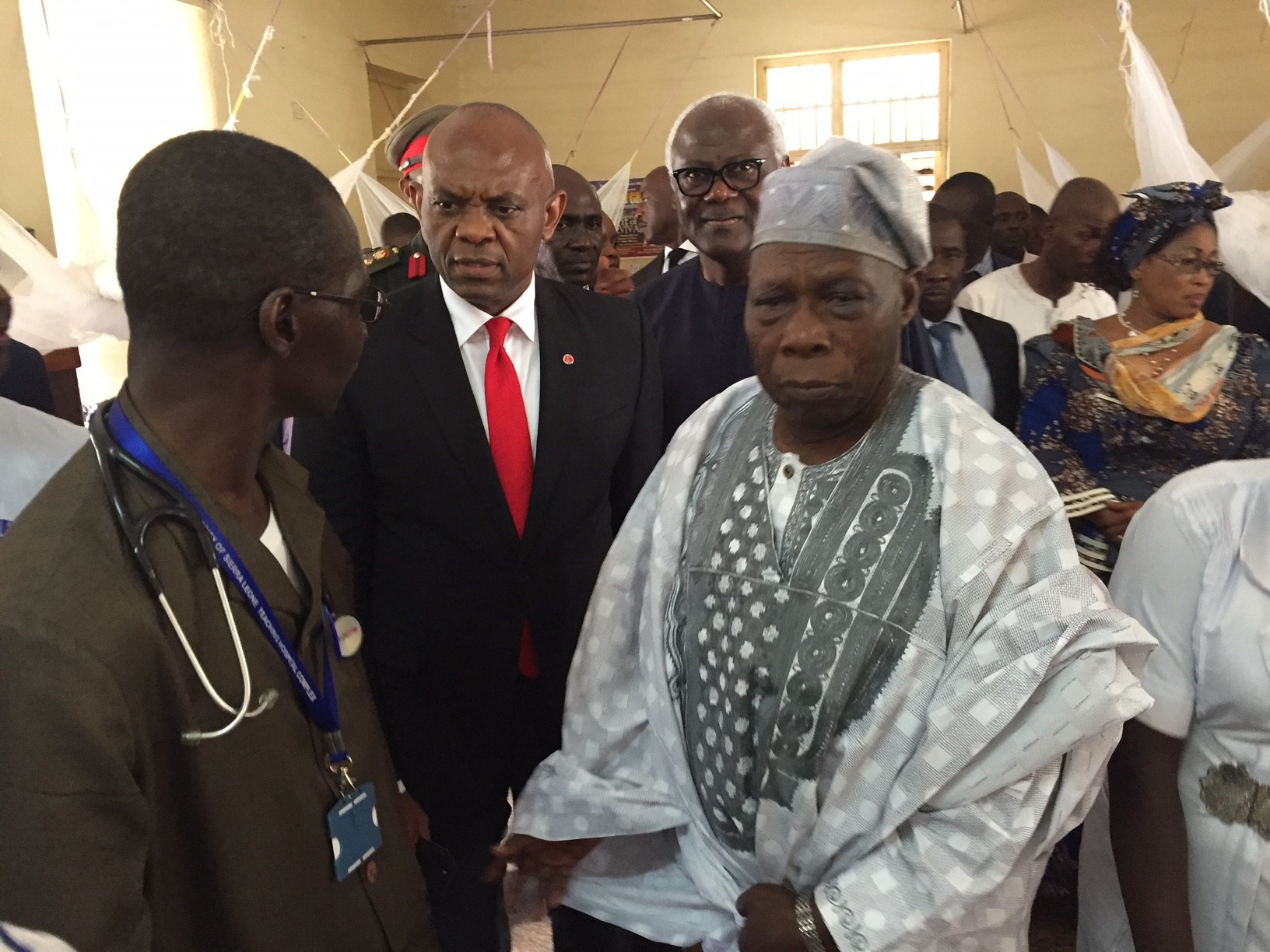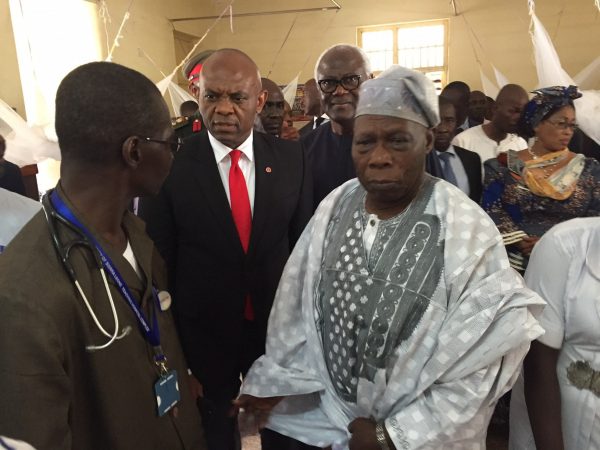 Following the August 14 unprecedented disaster, Tony Elumelu, Founder of Tony Elumelu Foundation and Chairman of United Bank for Africa (UBA), yesterday, Wednesday 23 August, paid a state visit to the people and Government of Sierra Leone to commiserate over the great loss caused by devastating mudslides and floods that have claimed hundreds of innocent lives and left many more still missing.
Elumelu in the company of former President of Nigeria Olusegun Obasanjo and Sierra Leonian Presiden Ernest Koroma visited some of the survivors at the Connaught Hospital in Freetown upon arrival in the country. Later on at the Sierra Leonian Statehouse, he made a donation of USD$250,000 on behalf of the Tony Elumelu Foundation and another USD$250,000 on behalf of staff, management and Directors of United Bank for Africa (UBA) as emergency aid grants for victims of the mudslides.
Speaking in solidarity with Sierra Leone, Elumelu charged the world and the African private sector to rally around the ongoing rehabilitation and relief efforts. "For me, the little token we are giving is what it is, little, but symbolic. At a time like this, the world must come together to support the victims of this unfortunate disaster. It is not a situation that one prays to be in, but in the event that it does happen, we should all rally to support one another."
Continuing, he urged the rest of the world not to turn a blind eye to Sierra Leone's plight: "We have on our hands a humanitarian disaster of high proportions. It requires the attention of the entire world. We have buried over 600 lives and many hundreds more are still missing. We must turn the global spotlight on Africa. The world must stand with Africa just as in the past, Africa has stood with the world."
The UBA Chairman reassured Sierra Leoneans of the Bank's steadfast support. "United Bank for Africa (UBA) will continue to play its role in helping small and medium scale enterprises, and women, especially from the affected areas, to enable them rebuild their economic lives.
The Sierra Leonean President, moved by this act, commended Elumelu's unwavering presence in the country's times of need, stating: "In you we have a brother and someone we can rely on." He praised the consistency of the Founder of the Tony Elumelu Foundation (TEF). "You have always provided us with support. United Bank for Africa (UBA) was here immediately after the war to provide us with banking services to support our rebuilding efforts. Again, during our fight against Ebola, you were here through the United Bank for Africa (UBA) and the Tony Elumelu Foundation (TEF) and provided us with great support. And now again, you have come to support us."
Elumelu's donation will support the victims, some of whom are in hospital needing food, clothing and medicine. The much-needed assistance will also go towards the ongoing recovery efforts and the construction of permanent settlements for the affected persons.
The Sierra Leonean mudslides is the third catastrophe to devastate the West African country in the two past decades