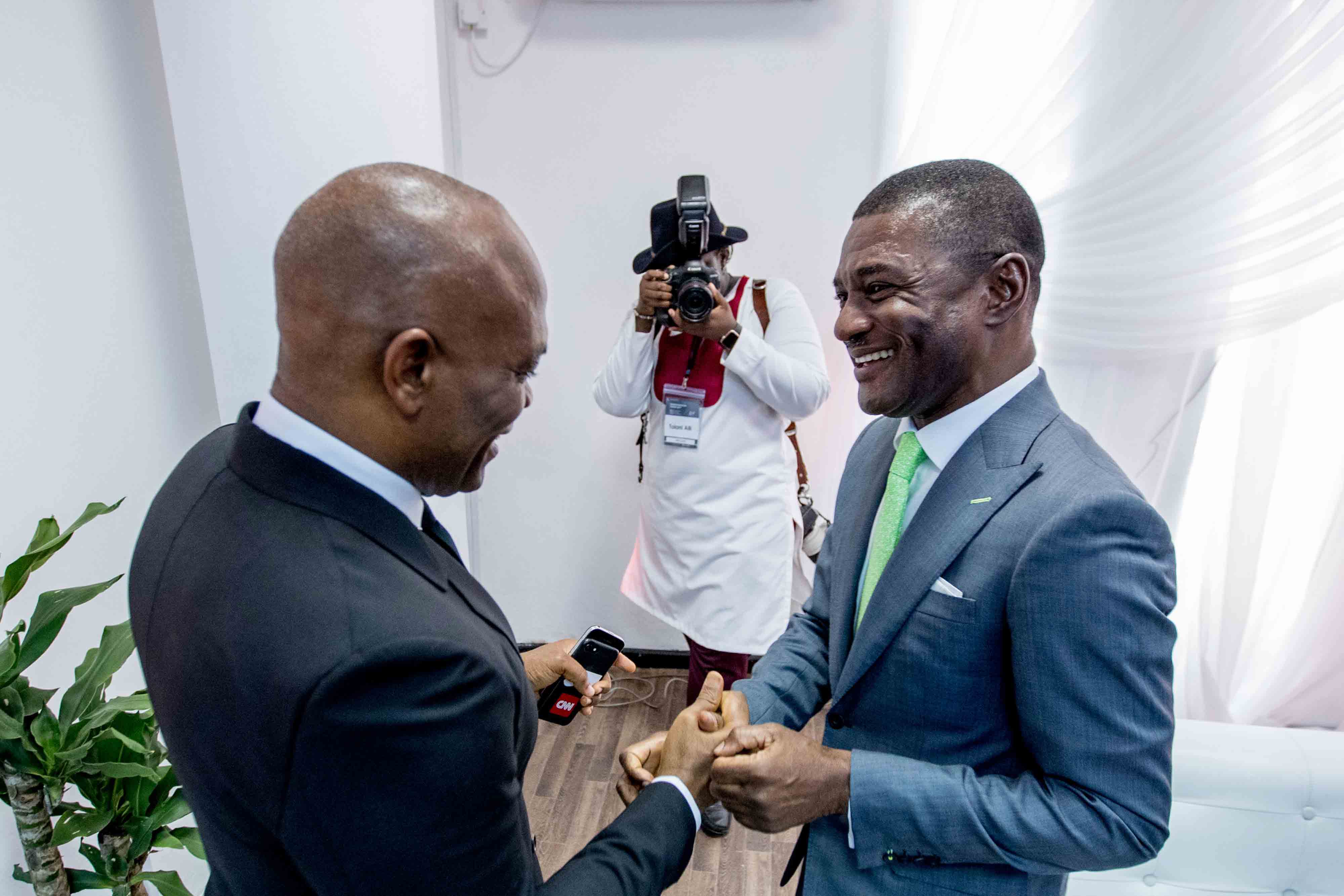 The Tony Elumelu Foundation's Leadership Development Programme Starts Second Year
Building on the successful launch of its African Markets Internship Programme (AMIP) for MBA students and graduates in 2011, The Tony Elumelu Foundation (TEF) is pleased to announce that the programme will feature a wider selection of African countries in its second year, growing from three to seven countries that cut across east, west, central and southern Africa.
AMIP, the Foundation's flagship Leadership Development programme, is designed to help improve the competitiveness of Africa's high-growth private sector businesses while introducing some of the world's brightest young business talent to executive suites across Africa.
The second edition of AMIP, starting on May 31, 2012, will see the programme's more than 30 associates working at African-owned or operated businesses in Abuja and Lagos, Nigeria; Accra, Ghana; Dakar, Senegal; Douala, Cameroon; Kigali, Rwanda; Lusaka, Zambia; and Nairobi, Kenya. Associates are expected to work on short-term high impact strategic projects during their time with their host companies.
"AMIP's spread across Africa is exciting because as a pan-African foundation, we are starting to realise our presence in business leadership development across Africa now that we've tripled our host company partnerships," says Efe Osagie Odeleye, AMIP programme manager at TEF. "The programme is much more interesting now because we are dealing with additional businesses, languages, cultures and industries. Our selected associates are highly competitive people who are able to respond positively to AMIP's new reach across Africa."
The associates have been drawn from top-tier schools across Africa, Europe and the United States. The schools include Lagos Business School; University of Ghana Business School; Centre Africain d'Etudes Supérieures en Gestion (CESAG), Senegal; The University of Capetown Business School, South Africa; London Business School; and IESE, Spain. Associates also come from United States MBA programmes such as Yale University School of Management; Duke University Fuqua School of Management; Thunderbird School of Business; The University of Chicago Booth School of Business; The University of Michigan Ross of School of Business; Purdue University Krannert School of Management; The George Washington School of Business; and Vanderbilt University.
"Many of my business school courses have prepared me for this programme," says Adenike Jemiyo, a second-year MBA student at Lagos Business School who is heading to Nairobi as a project management associate with Seven Seas Technologies, a provider of integrated business and technology solutions across Africa in government and the financial, telecoms, real estate, and service industries. "I look forward to putting those skills to valuable and impactful use."
Another innovation to the 2012 programme is the inclusion of private sector-facing public sector entities as hosts. TEF is piloting the expansion to the public sector this year with the Capital Markets Authority, Nairobi, regulator of Kenya's capital markets, as well as the Securities and Exchange Commission (SEC) in Abuja, Nigeria. Co-Creation Hub (CcHub), Nigeria's first open living lab and pre-incubation space, and with whom TEF is already partnering on a social technology innovation initiative, is also involved in AMIP this year. Additional host companies include Injaro Investments, a venture capital shop in Accra that makes impact investments in agriculture and other high-needs areas in Africa; Mit Chimie, a growing plastics and chemicals company in Douala; Manobi S.A., a mobile data services operator in Dakar; Uniongold Ltd., an investment company in Lusaka; and the School of Finance & Banking in Kigali.
"The need for enhanced management capacity has never been so great in the world, and especially in Africa," says Daniel Annerose, CEO/Director General of Manobi. "We are very pleased to be participating in this effort by The Tony Elumelu Foundation to assist young men and women with vision who will drive the success of this continent."
Associates will be expected to produce deliverables related to their job functions and based on problems presented and solutions required by each host business. Projects range from new product development and expansion strategies, to organisational restructuring. This will give associates a rare opportunity to work closely with entrepreneurs and executive teams, produce and make executive presentations, and inform decision-making.
"At The Tony Elumelu Foundation, we believe that while African businesses have the capital they need to launch or run, often, they lack the leadership or entrepreneurial resources to manage the capital they have," says Dr. Wiebe K. Boer. "This is one of the reasons why we launched AMIP, and I am excited that the programme will have an even greater reach across Africa this year."
About The Tony Elumelu Foundation
The Tony Elumelu Foundation is an Africa-based and African-funded not-for-profit institution dedicated to the promotion and celebration of excellence in business leadership and entrepreneurship across Africa. As a 21st century catalytic philanthropy, the Foundation is committed to the economic transformation of Africa by enhancing the competitiveness and growth of the African private sector. Founded by Tony O. Elumelu, MFR, the Foundation identifies and addresses systemic challenges that inhibit African entrepreneurs. For more information on The Tony Elumelu Foundation, click here.
About African Markets Internship Programme (AMIP)
The Tony Elumelu Foundation's African Markets Internship Programme (AMIP) is a leadership programme designed to give MBA students with a passion for African economic development the opportunity to obtain first-hand experience with business in emerging markets, develop essential skills and build a network in the fields of professional entrepreneurship and business management throughout Africa. For more information, click here to visit The Tony Elumelu Foundation AMIP page.
For more information, please contact:
JeNika P. Mukoro
Director, Marketing & Corporate Communications