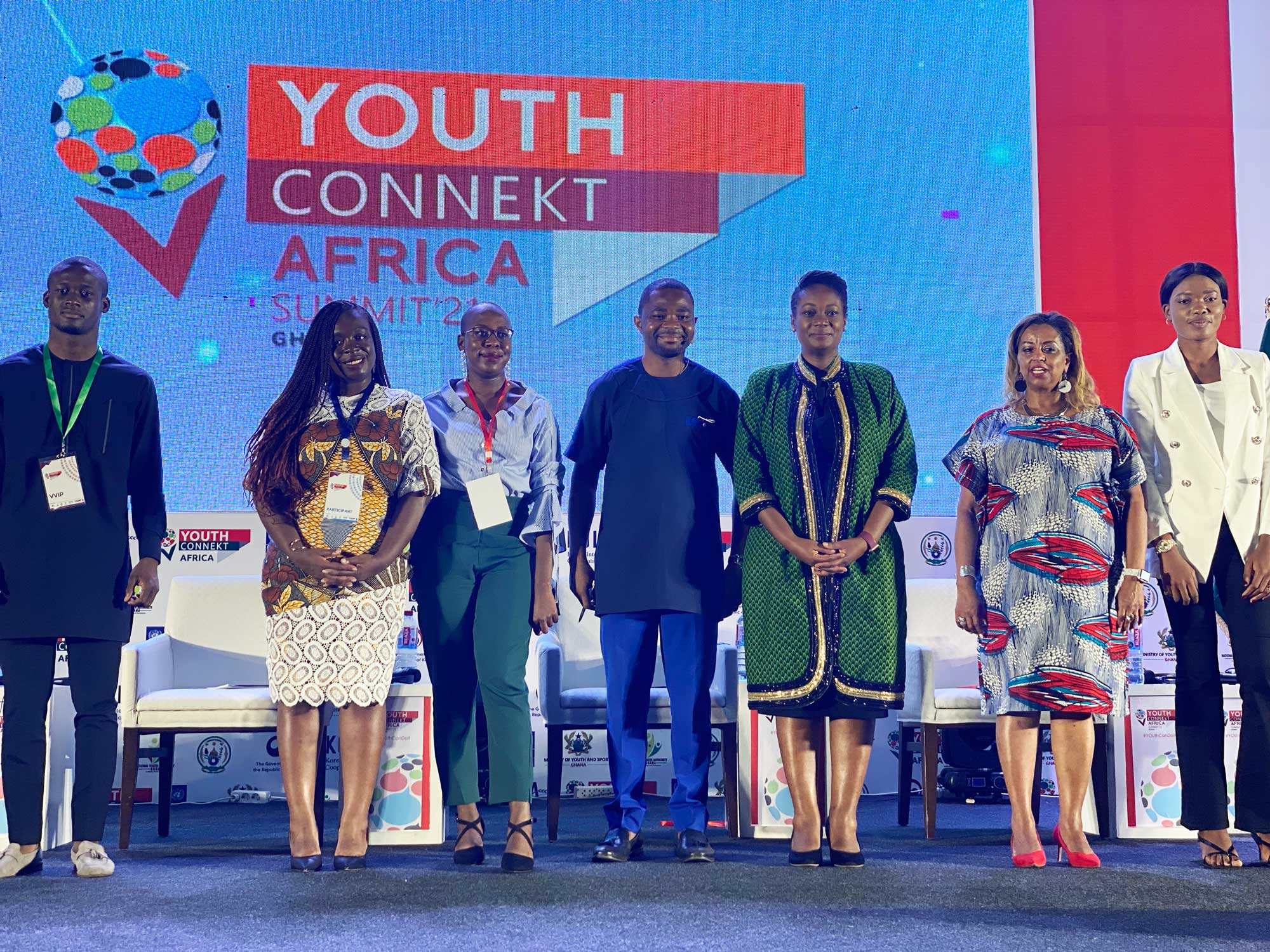 The Possibilities Are Endless When Trade Policies, Regulations, And Institutions On The Continent Are Aligned
On Thursday, October 21, 2021, TEF CEO, Ifeyinwa Ugochukwu, joined private sector players at the Youth Connekt Africa Summit in Ghana – co-hosted by the United Nations Development Programme (UNDP) – to discuss the opportunities that a single continental market pose.
Similar to the high-level meeting in March 2021, when TEF hosted the Secretary General of the African Continental Free Trade Area (AFCTA), Wamkele Mene, to identify new opportunities presented by the AfCFTA to jointly strengthen, scale and support small and medium scale enterprises across all 54 African countries, the interactive session explored how Africa's youth demography can be effectively positioned to take advantage of opportunities of the AfCFTA. Echoing the mission of the Foundation, Ifeyinwa reiterated how entrepreneurship has the potential to improve the economic status for both entrepreneurs themselves and their communities. The session was a chance to challenge the youth to think creatively and look inwards for opportunities that can be scaled through the framework of the AFCFTA. Here is a summary of some of her points:
The TEF and UNDP Entrepreneurship Intervention For Africa's Youth:
The Tony Elumelu Foundation entered an MOU with the United Nations Development Programme (UNDP) in 2017 to scale our mission to empower young African entrepreneurs, with focus on marginalized and undeserved demographics across Africa.
TEF and the UNDP have jointly funded close to 4,000 African entrepreneurs from the Sahel region; Mali, Niger, Chad, Cameroon, Mauritania, and North-East Nigeria, to all countries across the regions of the continent.
Beneficiaries of the TEF and UNDP partnership have delivered significant impact in their local communities. Read more about their success stories here.
The Importance of AfCFTA to African entrepreneurs:
A recent report by the World Bank indicates that the AFCFTA trade pact could boost regional income by 7% or $450 billion, speed up wage growth for women, and lift 30 million people out of extreme poverty by 2035.
The pandemic has had an obvious negative effect on Africa's growth and development and a successful implementation of AfCFTA would help cushion these effects by supporting regional trade and value chains through the reduction of trade costs.
Statistics show that Africa currently has the lowest percentage of intra-regional trade in the world at 18%, compared with 70% in Europe, 55% in North America, 45% in Asia, and 35% in Latin America.
These alarming figures are the reason why platforms like these are important. Trade is an integral factor for development for economy and who better to explore the opportunities of this trade than the biggest stakeholders, the youth.
Again, a successful implementation of the AfCFTA will greatly increase regional trade levels up, increase the continent's annual economic growth, create wealth more inclusively and reduce poverty. The possibilities are endless when trade policies, regulations, and institutions of all 54 countries on the continent are aligned.
One of the benefits of AfCFTA will be tariff reduction or a total elimination of custom duties on imported goods from within the continent. This way business in Africa can trade with each other without having to worry about the tariff barrier that currently exists.
When businesses can trade freely with each other on the continent, it provides a much more stable trade ecosystem, freer movement of people, goods, and services, increased continental market access for SMEs, more efficient knowledge transfer, amongst others.These are positive indicators for investors looking for opportunities within the continent.
An increase in intra-continental trade will invariably lead to an increase in economies of scale. Business owners will be able to purchase raw materials at a much cheaper rate, enjoy cheaper costs and more easily scale their operations. This will allow them to be better and more seamlessly integrated into the global market.
Equipping young entrepreneurs with the resources and competencies to harness the benefits of a unified economy:
Africa's move towards becoming one single continental economy will be an economic revolution which must be greatly encouraged. This is owed to the fact that the opportunities that the Continental Free Trade Area (CFTA) presents will see to the unifying of over1.2 billion people and a combined GDP of over $3.4 trillion. Going by these numbers alone, the possibilities of growth and prosperity on the continent, are endless.
Considering the large percentage of young people on the continent; it is evident that young and enterprising African will be the key drivers on our path to becoming a single economy. They play such an integral part in being able to harness the opportunities that the Continental Free Trade Area (CFTA) offers.
To ensure that these young Africans are well equipped to take advantage of the benefits of a unified continental economy, platforms such as the Youth Connect Africa Summit are also very important. This platform is not only a gathering of young people across the continent, hungry to make an impact but also, government officials, policy makers and any individual or organisation who plays a role in youth development
We need to create and implement policies that encourage and support entrepreneurship within the region. The entrepreneurship ecosystem must be enabling and conducive to encourage young people to go down that path.
TEF's mandate to equip African youth to explore trade opportunities on the continent:
At the Tony Elumelu Foundation, to advance our mission to empower African youths, we created TEFConnect. This our proprietary digital platform that provides capacity-building support, advisory and market linkages to over 1 million Africans and counting. It is the largest digital networking platform for African Entrepreneurs. Through this platform, entrepreneurs from across the continent can network and access world class trainings and mentorships that will benefit their businesses in the immediate and the continent at large in the long run.
At the Foundation, we continue to equip young Africa entrepreneurs to take advantage of these trade opportunities through our annual entrepreneurship programme. The entrepreneurs undergo world-class business training, have access to mentorship and receive a non-refundable seed capital up to $5,000, and global networking opportunities.
This is made possible through our Founder's $100 million commitment to empower 10,000 African entrepreneurs in 10 years in line with the belief that African entrepreneurs are the major drivers of economic growth. A belief that formed our founding philosophy known as Africapitalism.